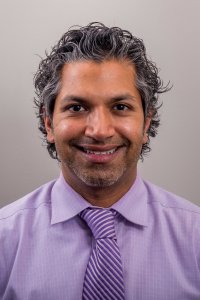 Dr. Murthy is a Board Certified orthodontist with an outstanding academic resume and excellent clinical experience. Upon graduating from University of Pennsylvania School of Dental Medicine in 2002 he received the Matthew H. Cryer Award for academic excellence. Following graduation, he served for three years in the U.S. Air Force Medical Corps stationed in Hampton, Virginia; Seoul, South Korea; and Tampa, Florida. He then returned to the University of Pennsylvania to complete his specialized training as an orthodontist, graduating in 2007.
Originally from India and raised in Queens, New York, he resides with his family in Belmont, MA. He enjoys attending local sporting events and exploring the culture of the Boston area, including its numerous restaurants and museums. He also enjoys spending quality time at home with his twin boys and their two cats. Some of Dr. Murthy's hobbies include biking, hiking, and winter activities. He is also an avid fan of science fiction TV shows and movies.
Dr. Murthy takes his professional commitment seriously as an active participant in national and local dental and orthodontic societies, including the American Dental Association, the American Association of Orthodontists, the Massachusetts Dental Society, and the Northeastern Society of Orthodontists.